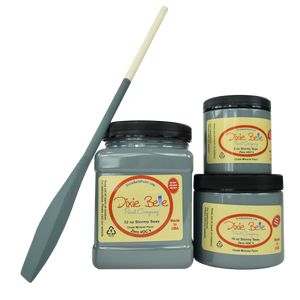 Stormy Seas is a blue gray with green undertones. While this rich color reminds us of choppy ocean waves and rain clouds, Stormy Seas has calming qualities.
Use this color to bring balance to your beach bungalow or mid-century modern home. Stormy Seas can easily be dressed up or down!
*actual colors may vary
• 8 OZ SAMPLE JAR.  Great for a small project like a side table or chair.
• 16 OZ PINT.  Perfect for a good-sized piece of furniture.
• 32 OZ QUART. This will cover several pieces of furniture. Covers approximately 150 square feet.