Welcome to Twigs n' Posies!
We represent the best of the best in the land of "do it yourself" creativity! 
Twigs n' Posies was founded by sisters, Kat & Tracy! Both have always been creative but lots of life, raising kids, caring for parents and so much more kept some of those creative aspirations on the back burner. As family responsibilities have shifted and changed, insert long story here HA!, we are excited to now be creating wonderful things for ourselves, our shops and, the BEST PART, to also share that knowledge with our family, friends and customers!
We are PROUD Elite Retailers with Dixie Belle Paint, Iron Orchid Design Stockists, and love our Sweet Pickin's Milk Paint too! We look forward to meeting you, supporting you and together creating lovely, beautiful, amazing goodies for your home & happiness!
May your creativity always be in BLOOM,
Kat & Tracy,  Founders of Twigs n' Posies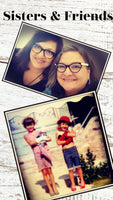 Dixie Belle Paint Co.~Featured collection