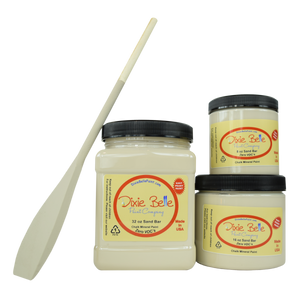 Sand Bar is a light tan. This neutral color can go with any style and any space!
Stick your toes in the sand with this coastal color at your beach house or use it to fashion your French countryside space with vintage charm. Sand Bar can enhance any aesthetic with gentleness.
*actual colors may vary
• 8 OZ SAMPLE JAR.  Great for a small project like a side table or chair.
• 16 OZ PINT.  Perfect for a good-sized piece of furniture.
• 32 OZ QUART. This will cover several pieces of furniture. Covers approximately 150 square feet.