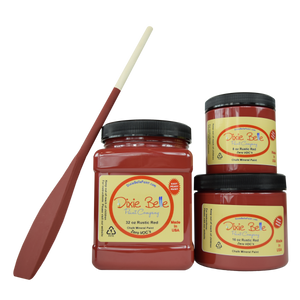 Rustic Red is a dark red with black and dark brown undertones. This color will remind you of cozying up in front of your fireplace during the fall season.
From farmhouse style to modern design, Rustic Red will surely make a statement. This country charmer will work well in your kitchen or living room.
*actual colors may vary
• 8 OZ SAMPLE JAR.  Great for a small project like a side table or chair.
• 16 OZ PINT.  Perfect for a good-sized piece of furniture.
• 32 OZ QUART. This will cover several pieces of furniture. Covers approximately 150 square feet.