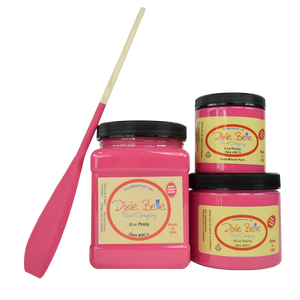 Peony is a bright, hot pink. This bold color is perfect for a variety of styles such as preppy, bohemian, or even glam with a touch of metallic!
Peony makes us think of bubblegum and blooming flowers. Use this cheerful color to add a pop of pink to your home.
*actual colors may vary
• 8 OZ SAMPLE JAR.  Great for a small project like a side table or chair.
• 16 OZ PINT.  Perfect for a good-sized piece of furniture.
• 32 OZ QUART. This will cover several pieces of furniture. Covers approximately 150 square feet.