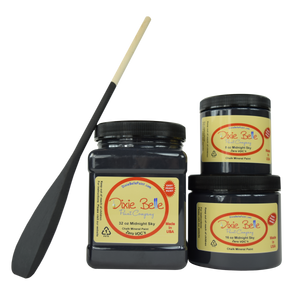 Midnight Sky is a dark blue-black. You'll see this calming color when you take a look through a telescope at night.
Whether your style is modern or rustic, Midnight Sky will make your space feel more grounded. Use this dramatic color to add dimension to your painted project.
*actual colors may vary
• 8 OZ SAMPLE JAR.  Great for a small project like a side table or chair.
• 16 OZ PINT.  Perfect for a good-sized piece of furniture.
• 32 OZ QUART. This will cover several pieces of furniture. Covers approximately 150 square feet.