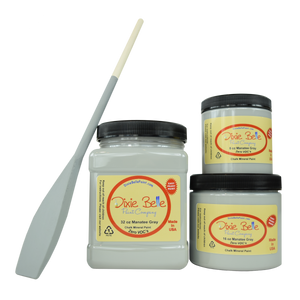 Manatee Gray is a light gray with soft blue undertones. Just like the sweet sea creatures, this cool color will add a gentle energy to your home.
Use this refreshing gray in your kitchen, dining room or guest bedroom and bath. You'll feel calmer than shallow ocean waves whenever you see this color. 
*actual colors may vary
• 8 OZ SAMPLE JAR.  Great for a small project like a side table or chair.
• 16 OZ PINT.  Perfect for a good-sized piece of furniture.
• 32 OZ QUART. This will cover several pieces of furniture. Covers approximately 150 square feet.