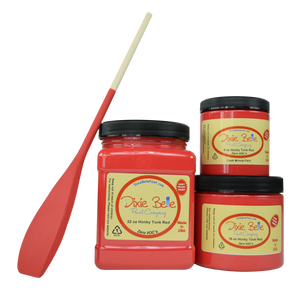 Honky Tonk Red is a true red. This lively color is perfect for your patriotic painted pieces!
Energize any area of your home with Honky Tonk Red. This classic color can create an optimistic attitude for anyone who sees it.
*actual colors may vary
• 8 OZ SAMPLE JAR.  Great for a small project like a side table or chair.
• 16 OZ PINT.  Perfect for a good-sized piece of furniture.
• 32 OZ QUART. This will cover several pieces of furniture. Covers approximately 150 square feet.