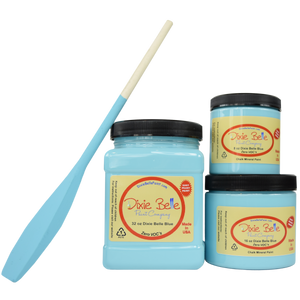 Dixie Belle Blue is a classic sky blue color. Dear to our hearts, we hope you enjoy this soothing but yet bright blue with your furniture or bungalow style home!
This color looks great blended for an ombre finish with another neutral tone like tan or gray or on a dining table set!
*actual colors may vary
• 8 OZ SAMPLE JAR.  Great for a small project like a side table or chair.
• 16 OZ PINT.  Perfect for a good-sized piece of furniture.
• 32 OZ QUART. This will cover several pieces of furniture. Covers approximately 150 square feet.