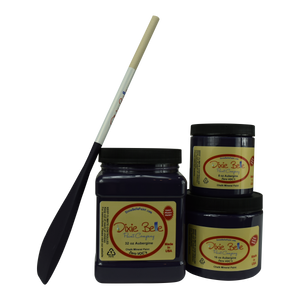 Aubergine is a dark eggplant purple. This rich color makes a statement in any space, especially when paired with blues and greens.
Use this royal color to add some elegance to your living room or dining room. Anyone who enters will instantly feel regal.
*actual colors may vary
• 8 OZ SAMPLE JAR.  Great for a small project like a side table or chair.
• 16 OZ PINT.  Perfect for a good-sized piece of furniture.
• 32 OZ QUART. This will cover several pieces of furniture. Covers approximately 150 square feet.